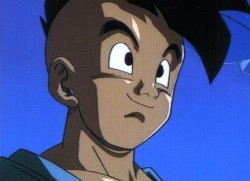 Uub (ウーブ Ūbu) is an Earthling, and due to being the positive reincarnation of the completely evil Kid Buu, his name is a result of reversing "Buu". Uub's seiyū is provided by Megumi Urawa (Kid Uub) and Atsushi Kisaichi (Teen Uub) in the Japanese versions of Dragon Ball Z and Dragon Ball GT, respectively. In the FUNimation dubs of both series, he is voiced by Sean Teague.
"You'll only fight one of us, because after what I've got for you, I make you one promise...you won't be able to tell up from down!" — "Shadow Dragons Unite"
Ad blocker interference detected!
Wikia is a free-to-use site that makes money from advertising. We have a modified experience for viewers using ad blockers

Wikia is not accessible if you've made further modifications. Remove the custom ad blocker rule(s) and the page will load as expected.