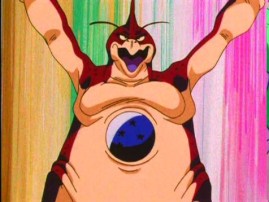 Rage Shenron (五星龍 Wǔ Xīng Lóng, literally Five-Star Dragon) is one of the seven Shadow Dragons and the second to be fought by the duo of
Goku
and
Pan
. Rage is the dragon of the Five-Star Dragonball and represents the element of electricity.
After their encounter with the bumbling and grotesque Haze Shenron, Goku and Pan continue their search across the devastated Earth for the remaining six Shadow Dragons. They do not encounter Rage straight away, instead observing his gelatinous "electric slime", which had scattered itself all across a destroyed city. When they meet Rage himself – who proudly proclaims himself to be "the strongest of the Shadow Dragons" – Goku and Pan are confused by the fact that the terrible monster barely reaches Pan's waist. When they mention the death of Haze Shenron, Rage merely scoffs and states that Haze was in fact the weakest of the Shadow Dragons. When questioned about it, Rage reveals that he was born from the wish that brought Goku back to life to confront Vegeta and Nappa. Despite his size Rage Shenron's ability to harness electricity proves troublesome for Goku and Pan, as their energy attacks are nullified by his electric blasts. Their energy is also sapped after they are mauled by Rage's electric slime. Rage then demonstrates his ability to turn himself into a titan by absorbing his energised electric slime. Goku transforms into his Super Saiyan 4 state, which angers Rage Shenron. The two then fight a more even bout, prompting Rage to make himself even larger and threaten to annihilate the entire city. Unfortunately for Rage Shenron, it began to rain and caused his large outer body to undergo a violent chain reaction. Withdrawing to a safer distance the two watched as the Shadow Dragon tried in vain to scatter his electric slime again, but he ultimately exploded and returned to his original size. As Goku and Pan found Rage, battered and beaten in a pile of rubble, they asked that he give up. Rage Shenron agreed and stated that Pan could take his Dragonball. However, as Pan approached to take the Dragonball from him, Rage tried one last attempt at killing the young girl; Goku swiftly destroyed the Shadow Dragon with a close-range Kamehameha blast.
Ad blocker interference detected!
Wikia is a free-to-use site that makes money from advertising. We have a modified experience for viewers using ad blockers

Wikia is not accessible if you've made further modifications. Remove the custom ad blocker rule(s) and the page will load as expected.