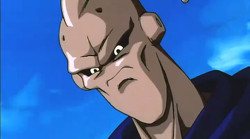 Evil Buu
is a tall, thin, and gray emaciated form which appeared after
Majin Buu
dispelled the evil from his body. Evil Buu represents the dark side of Majin Buu and possesses the bulk of their power, a result of Majin Buu's anger becoming more than he could resist until he expelled it as Evil Buu.
This explains why his reaction to the shooting of Mr. Satan was so despicable, and even appalled the Fat Majin Buu. The "evil" Majin Buu is a polar opposite of the "good" Majin Buu in all aspects apart from apparel (except for him having a dark blue cape where Fat Buu has a purple cape), including the color of his flesh (a drab grey), his incredibly thin body, and gravelly manner of speech.
Ad blocker interference detected!
Wikia is a free-to-use site that makes money from advertising. We have a modified experience for viewers using ad blockers

Wikia is not accessible if you've made further modifications. Remove the custom ad blocker rule(s) and the page will load as expected.