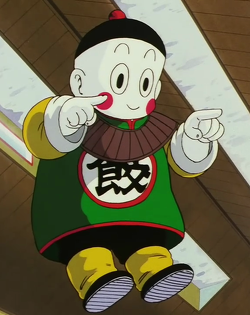 Chiaotzu
(餃子
Chaozu
) is a white-skinned, red-cheeked little human who is constant companions with
Tien
, his best friend.Just like Krillin, Chiaotzu does not have a visible nose. He is first introduced near the end of the Fortuneteller Baba Saga in the anime. Back when he was a Crane School student, he formed a rivalry with Turtle School student Krillin for a while in the 22nd World Martial Arts Tournament. Along with Tien, he quickly switches sides after seeing the folly of his master's teachings, and becomes a trusted ally and Z Fighter. He is a fairly quiet, but brave psychic martial artist who is willing to help out his friends whenever possible and is highly devoted to his training with Tien.
Ad blocker interference detected!
Wikia is a free-to-use site that makes money from advertising. We have a modified experience for viewers using ad blockers

Wikia is not accessible if you've made further modifications. Remove the custom ad blocker rule(s) and the page will load as expected.