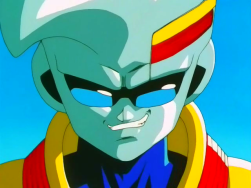 Baby (ベビー Bebī?) is a parasitic alien supervillain that first appears in the 22nd episode of Dragon Ball GT. Baby was created by combining the DNA of the king of the Tuffles with a cybernetic body. Baby desires to destroy all of the Saiyans to avenge his people. Baby is first reactivated from a sleep state by his creator, Doctor Myu. He attempts to fight Goku, Trunks, and Pan, but is easily defeated. To boost his power, Baby infects various people with his DNA and begins gathering energy from them. After a second defeat at the hands of the three Saiyans, Baby infects Trunks and then goes to Earth. On Earth he battles Son Goten and Son Gohan, infects them both, and is able to infect Vegeta and make him his primary host. Goku, Trunks, and Pan return to Earth to find the entire population is now under Baby's control. Baby is able to defeat Goku, then he begins using the Black Star Dragon Balls to restore the Planet Plant and transport the Earth population to it. During this time, Baby evolves into an even more powerful form and defeats Goku again. This causes Goku to transform into a Golden Great Ape and then into a Super Saiyan 4. In this new form, Goku is able to defeat Baby-Vegeta. He has Bulma, also under his control, fire a radiation beam at him from her Blutz Wave Generator which enables him to transform into a Golden Great Ape. After a lengthy battle, Baby separates from Vegeta and attempts to escape in a spaceship, vowing to return to destroy the Saiyans. Goku blasts the spaceship with a 10x Kamehameha attack, sending it into the sun. The ship is destroyed and Baby is obliterated.
He is voiced by Yusuke Numata in the Japanese version and by Mike McFarland in the Funimation dub.
Ad blocker interference detected!
Wikia is a free-to-use site that makes money from advertising. We have a modified experience for viewers using ad blockers

Wikia is not accessible if you've made further modifications. Remove the custom ad blocker rule(s) and the page will load as expected.